Do you feel like your dog has 'painted on' ears?
Ignoring your cues whenever you are out and about?
We can help!
If you want support to:
- Put basic obedience skills and routines in place.
- Ensure your dog walks calmly alongside you.
- Make sure your dog returns when off-lead.
- Feel confident your dog will interact nicely with other dogs.
- Keep building skills and enrichment for your dog.
You are in the right place.
Let us help train your dog so you can enjoy spending time out and about with them.
We offer dog training at all our Auckland locations.
We know that the strongest, most trusting relationships between dogs and humans are based on cooperation and kindness.
That's why we always use positive techniques with your precious pet.
This means we praise, give treats, and use toys to create a positive environment to reward your dog when they do something good.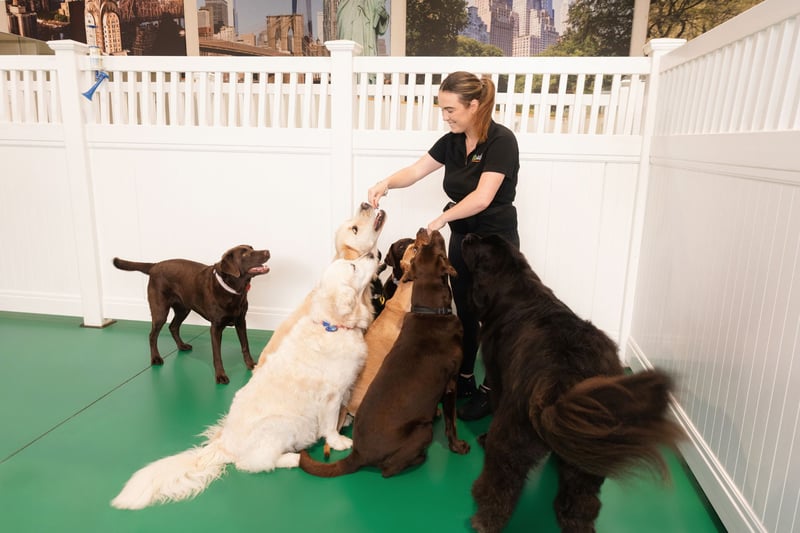 In-House Training Programmes
Do you want your dog trained whilst coming to Daycare? Book them into our in-house training program to brush up on their manners, learn new skills, and boost their obedience levels!
We have developed exclusive dog training programs where dogs of all breeds and sizes can be trained in-house by our professional dog trainers.
Our In-House Training focusses on the below three core programmes. However, we can also tailor a training programme for your dog's specific needs where required. For all training options, contact our reception team.
Puppy Socialisation Programme
Target Age: 8 to 12 weeks
Price: $450
During our Puppy Socialisation Programme, your puppy spends 30 minutes one-on-one with our in-house trainer once weekly over six weeks. You will receive a weekly report on how they went that day, homework to focus on for the following week, and a direct email address to our trainer to ask any questions you may have throughout the programme. Once your pup completes the 6-week course, they will receive a certificate of completion.
This programme focuses on building your puppy's confidence in the big wide world positively and calmly.
The benefits of this programme are significant. Your puppy gets to come and socialise with other dogs in a safe, well-managed environment for a day of daycare and gets the bonus of one-on-one socialisation with our trainer. This programme sets your puppy up for success and is an excellent entryway into the training world!

Puppy Development Programme
Target Age: 12 Weeks to 12 months
Price: $450
The programme has been designed to help your puppy develop the basic skills necessary to grow into a well-mannered, happy dog and focuses on teaching your puppy basic doggie manners, key commands and excellent socialisation skills.
Your training package includes six one-on-one sessions (usually one session a week for six weeks) with one of our experienced puppy trainers, six full-day Puppy daycare sessions, a pamper bath and nail trim and weekly feedback, practice notes, and follow-up for puppy parents.
During our classes, we use positive dog training techniques where your puppy will be positively encouraged to make good choices while we discourage bad or inappropriate behaviour. This is because we believe good puppy behaviour should be rewarded whenever possible.

Next Step Development Programme
Target Age: 12 months+ or graduate of Puppy Development Programme
Price: $530
PITC uses fun games-based dog training to shape good behaviour and build a strong relationship between you and your dog. Our Next Steps Development Programme will arm you with a tried and tested arsenal of games that you can plug and play with your doggo anytime, anywhere, and is the perfect next step for your dog's training journey.
The Next Steps tailored training package, which includes 6 full daycare days, is only $530.00. We have limited space available, so if you are interested, please contact us for the next available start date to secure your spot.

"All staff at PITC are amazing and very friendly; we recently put Brody through the Puppy Development training courses on offer, and the wonderful Danielle took him through his paces; she did a fantastic job! After the first 6-week course, we continued and did another 6 weeks, and I noticed a real difference in Brody's behaviour. The training was well worth it".

Why choose our dog training services?
We love helping you to feel the joy of having a well-mannered pet that wants to listen to you, responds to you in the right way, and trusts you implicitly.
Positive Reinforcement
All training is based on positive, rewards-based reinforcement techniques to create a bond of trust.
Exclusive Programmes
Exclusive in-house dog training programmes, so your dog can be trained during their stay with us.
Experienced Trainers
Highly experienced trainers with qualifications including canine behaviour and canine training.
Outstanding Leadership
A certified Trick Dog Instructor (one of only six in New Zealand!) So we know our stuff when it comes to training!
Let us help you. Contact us today to book your dog training.
Three convenient locations across Auckland
Our in-house dog training programmes are extremely popular, please book early to avoid disappointment.
Your Premier Dog Training Service in Auckland.
If you're looking for professional dog training in Auckland, you've come to the right place. Pets in the City is your trusted destination for effective, personalised dog training services. Our experienced trainers are committed to helping you and your furry friend build a strong bond and develop the necessary skills for a happy and well-behaved dog.

At Pets in the City, we understand the importance of proper training in shaping your dog's behaviour and ensuring its overall well-being.

We designed our dog training services in Auckland to cater to dogs of all ages, breeds, and temperaments. Whether you have a new puppy or an older dog, we have the expertise and resources to address their unique training needs.

Our professional dog trainers utilise positive reinforcement techniques to create a positive and enjoyable learning experience for your dog. We believe in using reward-based training methods that encourage desired behaviours through treats, praise, and play. This approach fosters a strong bond between you and your dog and helps them understand and respond to commands effectively.

Our dog training sessions are conducted in a controlled and supportive environment, allowing your dog to learn and grow at their own pace. We focus on positive reinforcement techniques that reward desired behaviours, making the training process enjoyable and effective.
Choose Pets in the City for Professional Dog Training in Auckland.
When it comes to dog training in Auckland, Pets in the City is your trusted partner. Our experienced trainers are passionate about helping you and your dog achieve success through positive and effective training methods. We understand that every dog is unique and tailor our training programs to suit their needs.

Contact Pets in the City today to schedule a consultation or inquire about our dog training services in Auckland. Our friendly and knowledgeable team is ready to assist you in creating a well-behaved and happy canine companion. Invest in your dog's future with our professional dog training in Auckland.