Welcome to
Pets In The City
Mt Wellington
Looking for a safe, enriching environment for your dog? Come and visit us!
Contact MT WELLINGTON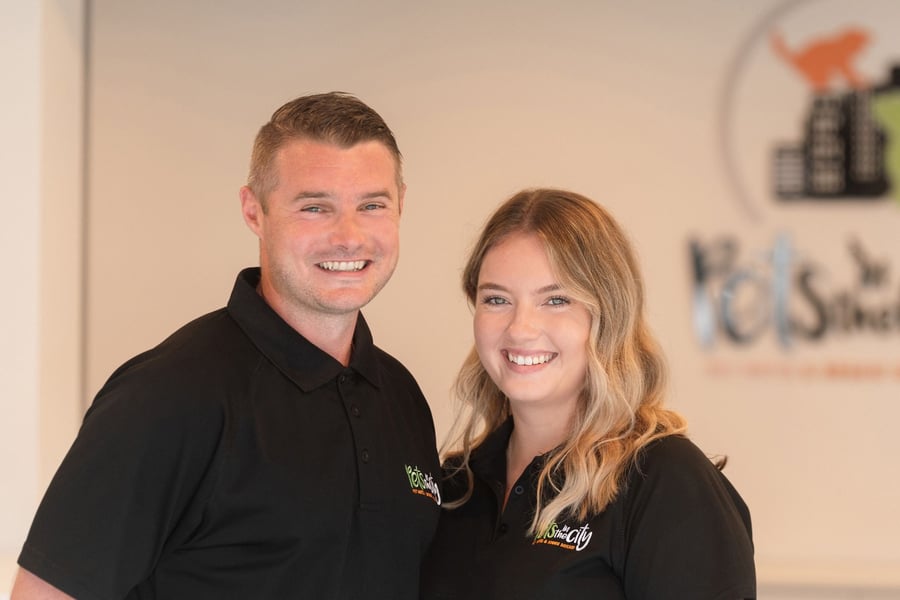 Our Mt Wellington Branch offers the following Premium Services:
Pets In The City
MT WELLINGTON
Phone: (09) 259 4666
Email: mtwellington@petsinthecity.co.nz
Opening Hours
Monday to Friday, 6.30 am to 7.00 pm.
Saturday, Sunday & Public Holidays, 7.00 am to 6.00 pm
CLOSED FOR PICK UP & DROP OFF:
Good Friday, Easter Sunday, Christmas Day, Boxing Day, New Year's Day, and the Day after New year's Day.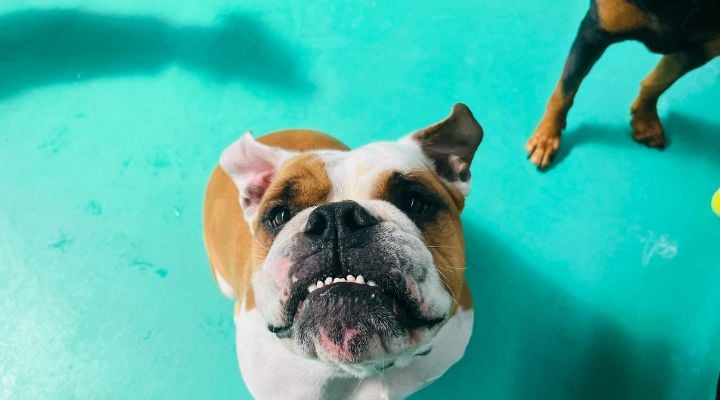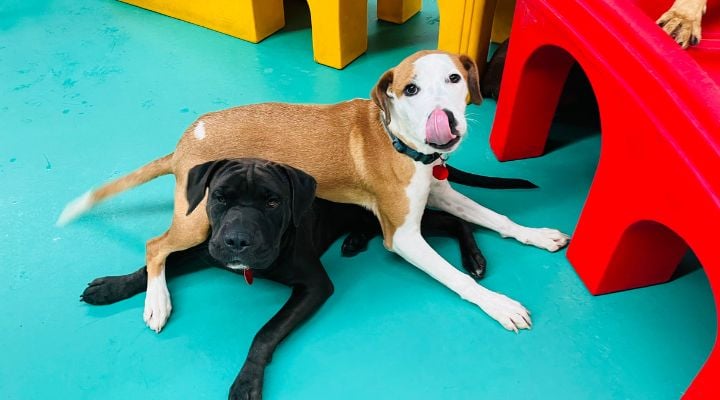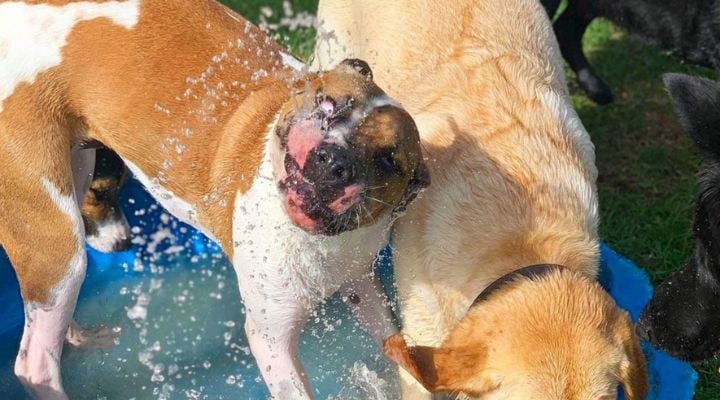 Meet Mt Wellington's Owners, Olivia and Reade Cassin
How long have you been working with dogs?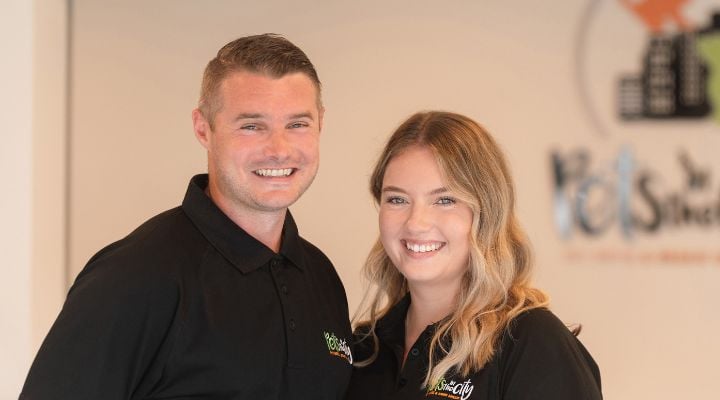 We purchased Pets in the City Mt Wellington in May 2021 and we haven't looked back. My (Olivia's) family dog had been coming here for years, and we had always dreamed of working together and owning our own business. We both love dogs, so it seemed like a no-brainer to us!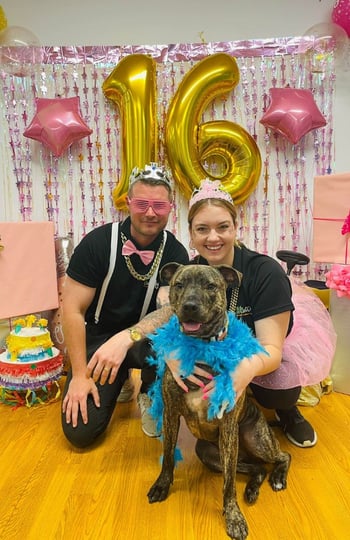 Do you have your own dogs?
We have a rescue dog called Bronx that we adopted as a puppy just a few months before becoming the new owners of Pets in the City Mt Wellington, so it works out perfectly being able to bring him to work with us every day.

We did a DNA test on Bronx, and he's a real mix! Turns out he's an American Staffy, Bullmastiff, Rottweiler, American Bulldog, Great Dane and Staffordshire Bull Terrier. Basically, some of our favourite breeds all rolled into one!
We also have a young son who loves dogs, so he loves popping into work to visit our guests.
What do you love most about your job?
Our favourite part of the job is bonding with many incredible dogs and developing relationships with their awesome owners.
It always makes us smile when our regulars can't wait to get through the door to play with their friends. It also gives us a good laugh when they put on their brakes at the end of the day because they don't want to go home just yet.
If you'd like to talk to us about your dog attending Pets in the City Mt Wellington, please call on (09) 259 4666.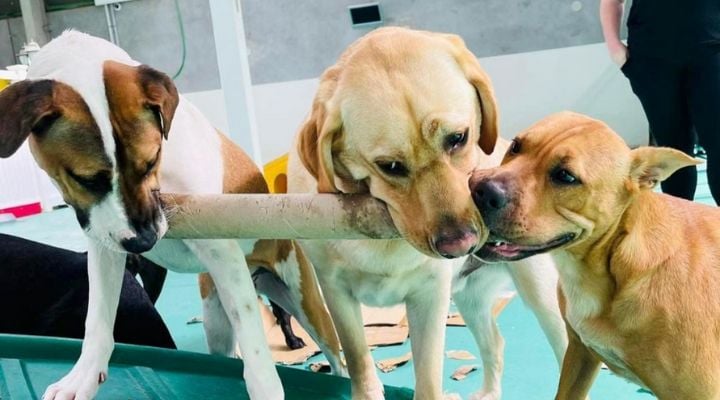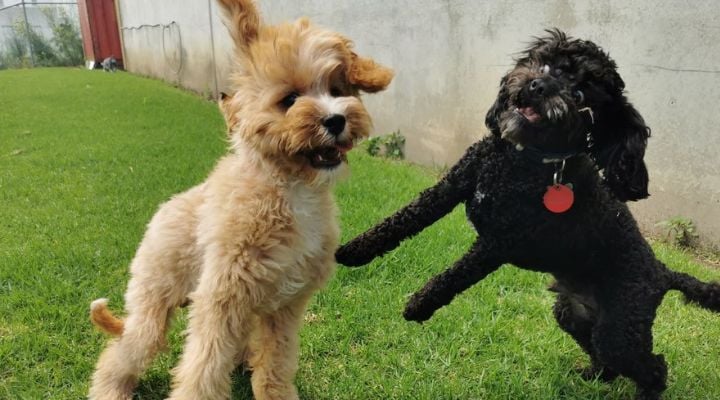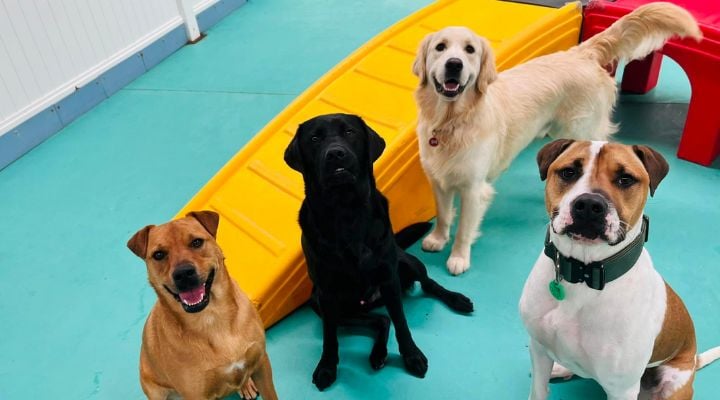 Hadley, our golden lab, absolutely LOVES going to Pets in the City Mt Wellington. As soon as we turn down the driveway, he cannot wait to get out of the car and see all his new friends. Knowing how excited Hadley is to go in is honestly such a relief. It takes the worry out of leaving him for an extended time over Christmas because we know he will be loved and well cared for - and you get facebook photo updates too! I would definitely recommend PITC to anyone looking for a loving place to take care of their pets.
My Puppy Selma has the best time she is so excited to arrive and is pooped when she leaves.I know my puppy is getting lots of love and care while she is at Pets in The City and we couldn't be happier. The team is awesome!!!
If you are looking for an excellent, safe place to leave your fur baby while you work etc. I cannot recommend PITC Mt Wellington high enough! Everyone here is amazing, the entire team and the owners. My dog gets excited when he knows he is going to doggy daycare and very sad when it's a day at home instead, lol. HIGHLY RECOMMEND, and I genuinely mean that; we are incredibly pedantic when we leave our fur baby with, so we recommend these guys in a heartbeat to anyone who asks (or doesn't haha). Thanks, PITC Mt Wellington :-).
Positive: Professionalism, Quality, Reliability, Responsiveness, ValueI couldn't speak more highly of Pets in the City Mt Wellington! Especially now that the new owners, Olivia and Reade Cassin, have bought the business. They are highly professional, accommodating, caring, and passionate about their step-fur children and the owners of the fur children. In the short time I have known them, I class them and the team (Jenelle Tamahaga, Mimmmi Blomgren, Shavaun Robertson and the rest of the group as friends! I am very fussy about who looks after my gorgeous British Bulldog Ella and feel very safe and at ease leaving her there whether it be for a day stay or holiday as Mum needs a holiday too! Sometimes I even wonder if Ella wants to come home due to the amount of attention, love and care she gets. So I can thoroughly recommend your fur child to go and check Pets in the City Mt Wellington, as I know you will fall in love with them as I did! I am getting goosebumps typing this!